GREENIES™ Treats & Supplements
Your Dog's Health Doesn't Need to Feel Im-Paw-ssible. Try Our Wellness-Packed, Tail-Wagging Treats & Supplements That Your Pet Can't Resist.
Real Benefits, Drool-Worthy Taste
Collection:

GREENIES Pet Products for Dogs

Shop all Dog GREENIES products.
What Pet Parents Are Saying
What I Appreciate Most
"What I appreciate most is the fact she not only enjoys eating them but they're great for her overall health."
- simplytamara
- GREENIES™ Original Regular Size Dog Dental Treats
My Pup Gobbles These
"My pup gobbles these up. He needs pills twice a day and these have been a lifesaver. Super easy to use/mold."
- rachelshine
- PILL POCKETS™ Treats for Dogs Chicken Flavor Capsule
Happy Puppy
"My dog loves greenies. I love the minty breath. They chew up well. She's 8 months and loves to chew. Her teeth look great. she gets excited when she sees the bag."
-auntyem
- GREENIES™ Anytime Bites Dog Treats, Mint Flavor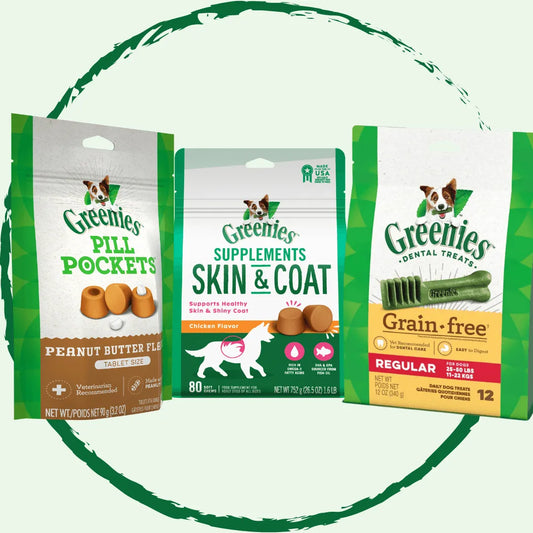 Not Sure Where to Start? There's a Quiz for That.

Start by letting us know about your pup's quirks. Smelly breath? Chew-sy medicine takers? Itchy skin?

We'll recommend a daily wellness routine, cleverly disguised as healthy treats. Bone-appetit!

With free shipping and a 5% discount on your subscription, you will never run out again!
Create Your Plan
You're $
50
Away from free shipping!
Cart
Choosing a selection results in a full page refresh.